Single or Multiple Award
Shadow Box
Solid Oak or Walnut
Glass Front
Laminate Panel Back w/ Hanger
Personalized Engraving (optional)
Inside Dimensions: 8W x 10H x 3 deep
Starting at $34.99. Made in the USA.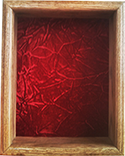 Hangs Vert. or Horizontal
Includes:
Crushed Velvet Background
Laser Engraved Text (optional)
Customize to suit your requirements.